Welcome to Dime Software index page click on anything that interests you.

---
---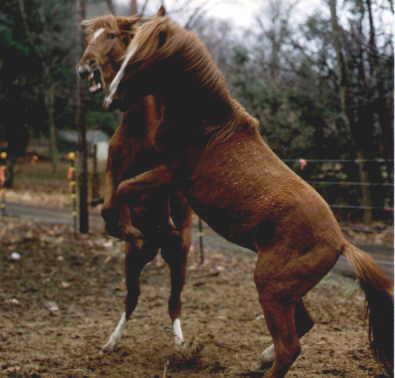 To see a short video of Uno de Mingo play his guitar, click on this text or the picture of Uno and his brother Cody at play. To order a CD with several training videos of Uno, click on the Buy Now Button. You can call us at (724) 954-3558. The CDs are $7.95 + $2.25 shipping, 6% PA sales tax is added to all orders. Mail a check or money order to Dime Software, 302 Holly Road, Adrian PA 16210. Be sure to include your shipping address and phone number. This CD makes a perfect gift for children and horse lovers. There is not any computer editing to the videos -- Uno really plays the guitar and appears to enjoy playing for the sound (I do not honestly think we can call it music). He has been playing his guitar for about 7 years and likes to have an audience when he plays.

---
---

Small or large parts manufactured from steel, aluminum, or stainless steel.

---

Learn about low tech software :

NUTRITION! EXERCISE! & DIET PROGRAM! Check it out!
VEHICLE EXPENSE ACCOUNT; Check it out!
EXPENSE ACCOUNT; If you use Quicken, Quick Books or if you hate to address envelopes, you need double window envelopes -- check out these prices.

---

---

Visit a page using Dime Software Nutrition program to evaluate Low Carb High Fat Kavorkian? Diet.

---

See a sample Dog Breeders Page, or order pet supplies.

---
Visit the smallest Paso Fino Breeding Farm in the World.
---

Click here to see Allegheny river data just above lock & dam #7

Send E-Mail
---